The Gulf of Morbihan: one of the most beautiful bays in the world
Peaceful haven, the Gulf of Morbihan with a mild and sunny climate, opens on the Bay of Quiberon by a narrow passage between Locmariaquer and Port Navalo. The waters of the ocean that enter the Gulf, have created over thousands of years, a true archipelago, a unique place where land and sea mingle.
The Gulf of Morbihan is part of the Club of the most beautiful bays in the world.
The islands of the Gulf of Morbihan
According to the legend, "the small sea" would include as many islands as days in the year ... The Gulf actually shelters only forty of which about thirty are inhabited.
In the heart of the Gulf of Morbihan, two larger islands form a common: Ile d'Arz and Île-aux-Moines.
Many shipping companies offer you access from Locmariaquer, Vannes, Port Blanc ...
In a few minutes by boat, it is the change of scenery guaranteed! Old villages with narrow streets and fishermen's houses, pine forests and hills covered with heather, beaches and coves ...
And many coastal trails that allow you to discover its islands in peace on foot or by bike!
A gulf cruise during your holidays at La baie campsite
The discovery of the Gulf of Morbihan during a boat cruise is also a magical moment as the colors and landscapes vary depending on the tides, the times of the day or the vagaries of time.
In our entertainment program, we offer you to discover the gulf and its islands : you take the boat from the port of Locmariaquer with the company "Vedettes L'Angelus". A guide will accompany you on this 4-hour guided cruise with a stop on Île aux Moines.
Shipping companies
Annotated cruises, with or without stopover and by day, as well as lunches or dinner cruises are offered by several companies.
La Semaine du Golfe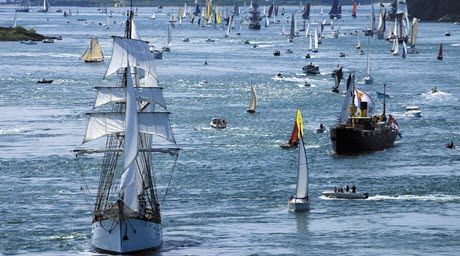 Every two years, the Gulf of Morbihan is the meeting place for old ships and traditional boats from all over Europe, during a great maritime festival called Semaine du Golfe.
L'ïle aux Moines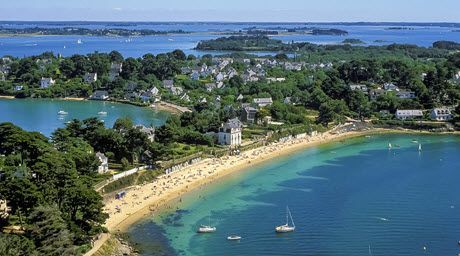 Five minutes by boat are enough to cover the few hundred meters that separate Port-Blanc from the pier of Île aux Moines ... Take the different walking routes that lead from one end of the island to the other. discover the one nicknamed "the pearl of the Gulf".