Megaliths of Carnac
The mistery of the menhirs
A 7000 year-old story
Carnac is famous for its megaliths. This site is considered the largest in the world. These alignments are fascinating, even beyond their historical or scientific worth.
The most accepted theory about the meaning of the alignments is that the lines of menhirs are orientated in order to face the sunrises during the solstices and equinoxes.
This theory also sets forth a tie between the layout of the stones and the celestial cycle.
Kermario, Kerlescan, Menec and others may be nothing other than a gigantic outdoor calendar ...
The Manio Giant
Also discover the highest menhir in the region (6 meters): the Manio Giant, located between Kerlescan and Kermario, close to a group of small menhirs called « Manio Quadrilateral ».
The visit of the alignments
The free visit of the alignments of Carnac is authorised from October to March.
Between the months of April to September, a guide-lecturer accompanies the visitors on the sites.
These tours are organised by the House of Megaliths which also offers many activities: Prehistory workshops, photo exhibitions, fairy tales evenings ...
Information about the different megalithic sites of Carnac, you will find there projection room, shop and bookstore as well as the saling of tickets to access the visits.

The small tourist train
The visit of the megaliths with the small train is one of the excursions that we propose every week in our program of animations.
This commented tour commented will make you discover the most emblematic megalithic sites but also the beaches of Carnac and the port of La Trinité sur Mer.
A departure from the campsite
No need to move!
The small tourist train passes to take you from the entrance of the campsite for a unique ride of one hour.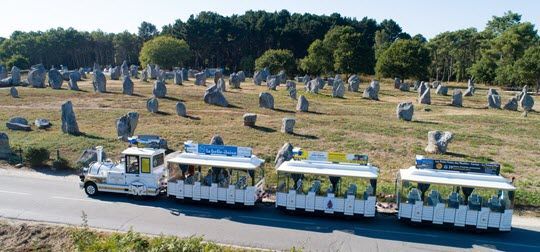 Sound and light show...
Since a few years, each summer, Skedanoz, a nocturnal animation highlights the megaliths of Carnac.
At dusk, the 3,000 menhirs lined up in the Menec field tell their story through a sound and light show and legendary stories.
Magical evenings for young and older ...