Bay Islands
To Discover...
During your holidays at the campsite La Baie, we propose you to go for the day to discover the islands just offshore the peninsula of Quiberon : Belle-île, Houat and Hoedic. Some villages and little ports with their authentic charms, some natural sites and breathtaking landscapes, some long sandy beaches and small preserved coves with turquoise waters...These are what waiting for you on the islands of the Ponant !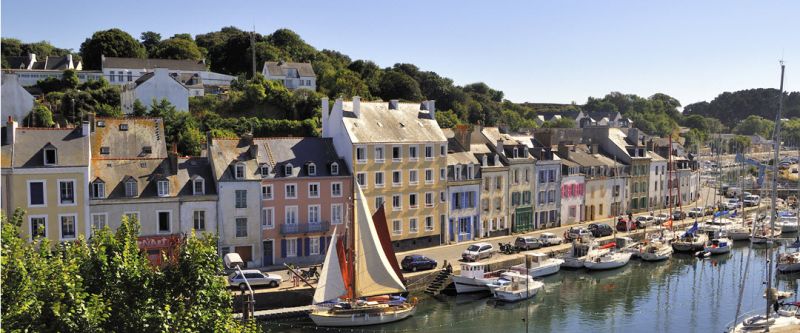 It is the largest of the islands fin Brittany, 84 km² of escape and dream...Hikers' paradise with more than 80 kilometers of coastal paths, Belle-Ile offers a wide variety of landscapes and also exceptional natural sites.
To see
The port of Sauzon with its pastel-colored houses along the quays
Le Palais with its citadel Vauban overlooking the harbor and its lively streets

The beach of Grands Sables

La Pointe des Poulains and the fort of Sarah Bernhardt

The headlight of Bangor

The cave of the apothecary
The beach of Donnant, to practise surf and body-board
The famous hands of Port Coton painted by Claude Monet
Useful links :

Houat and Hoedic
Environment preserved and change of scenery assured on these wild islands which carry well their name "islands of silence". Here, no cars ...only noise is waves and wind ... In Breton, Houat and Hoëdic mean "duck" and "duckling". But there are many other species of birds that you will cross on the trails of these islands with unique flora and fauna...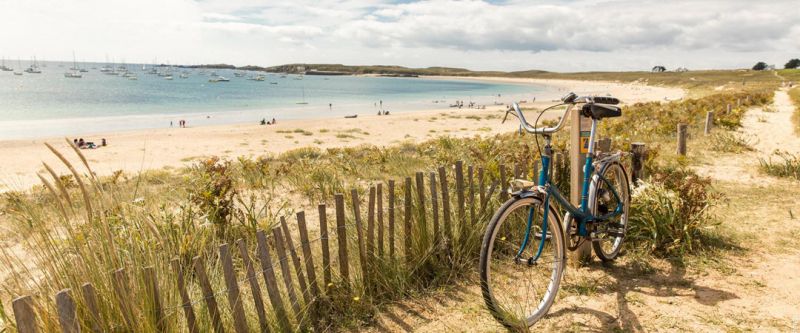 Much smaller than Belle-Ile en Mer, the "sister" islands offer walks along the many coastal paths and paths and reveal all their natural riches: sandy beaches with crystal clear waters, moors and dunes, coves and rocky points. You will fall in love with their villages very friendly with their shops (grocery, bakery, restaurants, cafes ...) and their streets full of hollyhocks ...
You will also discover the historical heritage of these islands occupied by man for a long time as evidenced by the presence of many menhirs and dolmens and more recently the construction of several forts Vauban including that of the island of Hoedic which now houses exhibitions on archaeological discoveries, the history of Hoedicans, fauna and flora ...
Prépare your day trip
Spend a day on Houat during your holidays at campsite
With ferry company Navix, we organise a day trip on Houat island once a week. The departure is the port of La Trinité sur Mer. Places are limited, don't forget to subscribe !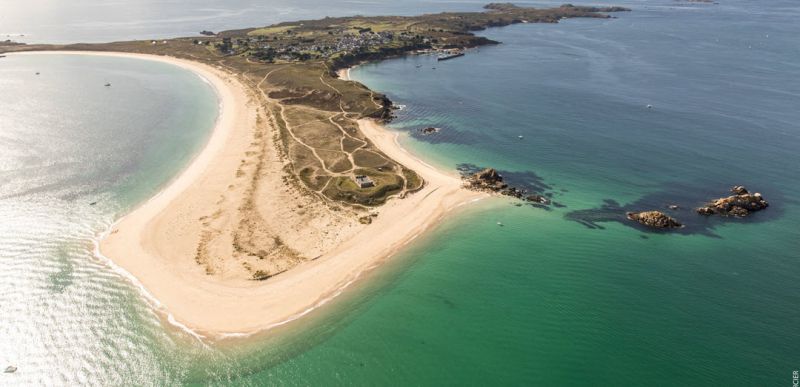 Take the boat...
It's easy to organise a discovery day in Belle-île, Houat and Hoedic. Several shipping companies provide the crossing and you take in more or less an hour. The different wharves:
From Locmariaquer, 10 kilometers from Camping de la Baie.

From Vannes and Port-Navalo in summer, and all year from Quiberon.
Useful informations on shipping companies: